The things we do and the things we think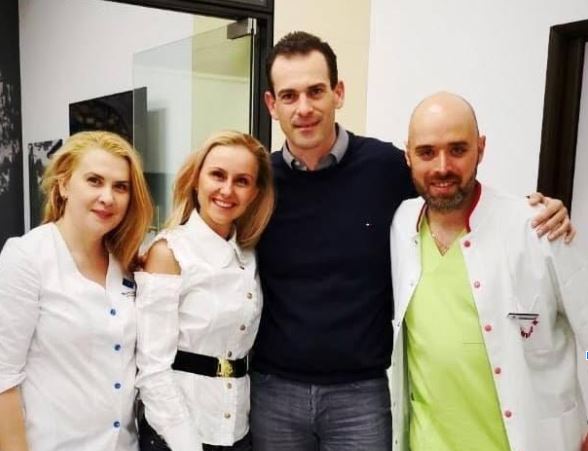 Bucharest, Romania - Business Coaching Services for Skinmed Clinic​
Working with Dr. Amalia Anghel and Skinmed Clinic staff has been an amazing experience. Three full days for the "Global Clinic Assessment" including business analysis and interviews with all the key people have been the inspiration for so many important findings.Setting up a holistic strategic plan towards the excellence in Practice Management, Marketing and Business Setup is an ongoing procedure, these three days have just been the kick off period! Looking forward to visit Skinmed Clinic again soon and work more with Dr Anghel on all the plans we set together. ​
Business Coaching Services for a big Medical chain​
It is a great pleasure for the entire Upmybusiness team to work as a Business Coaching Agency with Medicosmetic Managing Director Maria Xatzianastasiou in the design and implementation of the Business Development & Marketing Strategy.The trust of Company's Board of Directors and the results on the goals we have set are the greatest reward for our efforts. We are all convinced that 2019 will be another successful year for MediCosmetic.
Aesthetic Gynecology Marketing & Practice Management - London​
Dealing with "Concerns" and "Expectations" of the business owners in Medical Aesthetics industry can be a very challenging and fascinating working field. Being properly trained to meet patients' expectations and overcome barriers during consultation is fundamental to sustain a profitable Medical Aesthetics business.​
Medical Aesthetics and Medical Tourism join forces​
Health Tourism in Attica. President of Elitour, Dr. Patoulis, is presenting in "Money Show 2019" the vision for Medical Tourism in Attica and in Greece. A business field with high potential. Medical Aesthetics Business is a major pillar and planning properly the next steps is fundamental. Joining forces is the key element to success.​
Instagram Marketing Strategy or a private Medical Aesthetics Clinic​
Best practice sharing is a fundamental ingredient for developing new skills. Bamed SkinCare Clinic (Jakarta, Indonesia) and Upmybusiness have had the chance to share knowledge and tips to a successful Instagram marketing strategy to a very interactive audience during the big ESAG training event with more than 40 doctors from Indonesia, Malaysia, Australia and other countries attending.​
Bali, Indonesia: Another business training destination for Medical Aesthetics​
ESAG training in Bali has just came to an end after 4 days of intensive training on Invasive and non-Invasive techniques, Practice Management and Marketing as well as Psychological Assessment of the patients. More than 40 doctors from Indonesia, Malaysia, Australia and other countries have attended this great training event on Aesthetic Gynecology. Bali is a fascinating touristic destination. Never thought that my first visit there would be for business purposes. I committed to myself to return and enjoy some relaxing days with no suits and ties in my luggage…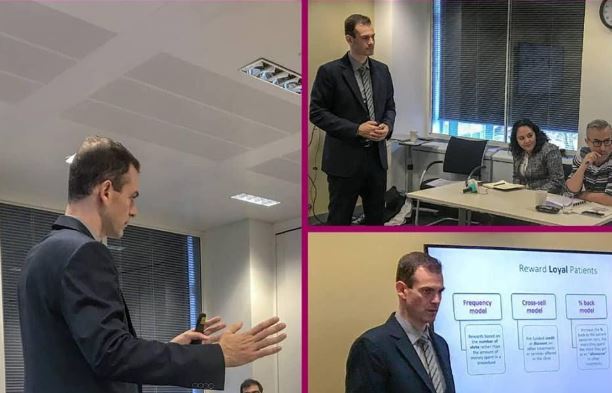 Grow your Medical Aesthetics Business London 2019​
Another great ESAG training in London this week, whilst enjoying the opportunity to interact with colleagues and delegates on the essentials of marketing and innovation at the forefront of Aesthetic Gynecology worldwide.Aesthetic Gynecology is booming around the globe attracting more and more gynaecologists as well as other MDs to ember Cosmetic Gynecology in their daily practice.Apart from the necessary and fundamental medical training, it takes some business acumen to brand and market correctly this new business to new female patients as well as to the existing ones.​
Keynote Speaker in TAMC Congress Dubrovnik​
Such an amazing event and a great audience. Privileged to be invited to TAMC 2018 to talk about how to do business in Medical Aesthetics. Two lectures delivered on how to "Brand & Market Medical Aesthetics Business " and "Plan you patients' Journey with Excellence in your clinic". Many thanks to TAMC 2018 Organizing Committee for the kind invitation! Everything was impeccably organized and executed!​
Medical Aesthetics Business training in Dubai​
Done... Another ESAG training in Dubai ended. Innovative doctors from USA, South Africa, UAE & Saudi Arabia have joined forces in our fruitful brainstorming on Medical Aesthetics Marketing & Practice Management Module!Highlight of the day: Comment from a top Gynecologist from West Virginia, USA after a 2,5 hours session with no brake:"Are we done? Already? I was just getting warmed up...!!!"This is what I call success... ​
Business Module in Warsaw, Poland​
Another training day with ESAG in Warsaw is over... Great group of innovative doctors, interactive business training, lots of learnings and fun! Looking forward to the next one..Poland: A country with a great smell of education: Did you know that 90% of Poles have completed at least secondary education, the highest rate in the EU? That there are over 100 universities in Poland?Topics covered in Upmybusiness sessions:- Optimizing patient experience within the clinic- Creating and supervising a successful comprehensive marketing strategy on an Aesthetic Gynecology topic- Effectively managing communication​